Are you struggling to understand the Amazon Seller Feedback? If you are, there's no better time to start learning about it and take steps to bring improvements to your Amazon seller account. 
79%
of Amazon consumers prefer buying products with the best reviews and ratings.
That's humongous!
What does that tell us? Customer feedback is as relevant as ever.
If you're an Amazon seller, you need to understand the nuances of Amazon Seller Feedback, as it significantly impacts the overall performance of your Amazon seller account.
However, becoming a successful seller on Amazon requires extensive knowledge of how Amazon Seller Feedback works.
Even if you get its basics down, you will have a winning start. But you can always look at more details later and expand your knowledge.
Does that sound encouraging? Great. Let's get started!

What is Amazon Seller Feedback?
Simply put, Amazon Seller Feedback is a feature that helps buyers rate your online store and share their experience publicly. It's integral to your Amazon account's worth and guides other buyers to land on your product page. Moreover, it provides valuable insights for potential buyers and helps you and other sellers build their reputation on the platform.
As it is feedback, buyers can share positive or negative reviews for your product based on their experiences. Typically, they review your shipping and delivery efficiency, customer service, and product quality.

Why is Amazon Seller Feedback Important?
There are many reasons why Amazon Seller Feedback is extremely important for your Amazon account.
Impacts on Brand's Value
Due to the virtual nature of Amazon stores, customers look for the past experiences of other buyers. And that is quite obvious because they cannot physically check the products, so they highly rely on the images and comments shared by other buyers. Their feedback helps build reputation and trust for other buyers, increasing or decreasing the brand's value.
Influences Buying Decision
After passing through the entire sales funnel, customers focus significantly on the feedback given by the buyers. And so, their decision greatly depends on how they perceive your brand from the reviews on the account. Depending on positive or negative feedback, they influence their decision.
Helps You Identify Issues
Amazon Seller Feedback is the accurate depiction of your product's value for the user and how they actually perceive it after using it. Therefore, both positive and negative feedback gives you a true picture. In case of negative feedback, you get to know what needs to be improved. On the other hand, positive feedback will help you understand how you have to keep going with your strengths.

How Does Amazon Seller Feedback Work?
Like many other processes Amazon carries out systematically, Seller Feedback follows a structured system. The major output of this system is to allow buyers to leave feedback to a seller they have purchased from. Several elements are a part of the feedback process. 
Seller Feedback Rating
On Amazon, once a buyer goes through the sales funnel and finally makes a purchase, they can rate the seller numerically on a 1 to 5-star scale. Below, you can see what each rating star means:
Positive Rating 
Positive Rating 
Neutral Rating   
Negative Rating
Negative Rating
How Does Amazon Calculate Seller Feedback?
Well, the buyers can see the individual feedback from all the sellers on the product page and an average of all the feedback within a specific timeframe. The average feedback is visible on the product page as stars. 
You can understand this easily with an example. Let's say 50 customers have given feedback on your seller account, and 40 of them have given 4 or 5-star ratings, which means your account has an 80% positive rating. And that's considered a good score for your account. Another great thing is that it doesn't matter what feedback the remaining ten customers have left (neutral or negative); the calculation will depend on the positive ones. 
Seller Feedback Content
Besides the numeral ratings from 1 to 5 stars, the Seller Feedback also consists of written comments. Typically, buyers leave comments discussing their concerns related to:
Responsiveness of the seller

Shipping and delivery efficiency

Returns and refunds

How the seller has communicated
Usually, buyers also share their experiences by telling the entire story of purchasing from a seller. And that influences the behavior of the potential buyers to a great extent. 
Seller Feedback Visibility
Customer feedback is valuable for you as an Amazon seller as it contains insights, opinions, and firsthand experiences customers share. It's a great source and can significantly benefit you as a seller. By tapping into the feedback given by customers, you gain access to their thoughts and feelings about your products. It's not only helpful but also highly beneficial in understanding how you are performing as a seller.
If you want to view the feedback you've received as a seller, just follow these simple steps:
Step 1: Log in to your Seller Central account using your credentials.

Step 2: From the menu, navigate to the "Performance" section and select "Feedback".

Step 3: Go to the "Feedback Manager" page and find the "Recent Feedback" section. Here, you can quickly sort the feedback based on its received rating. You can enter the relevant order ID in the search bar if you're looking for specific comments related to an order.
Seller Feedback Removal
Regarding feedback, you may have experienced situations where some comments seem unfair. So the question arises: "How to remove Amazon seller feedback? " 
The frustrating part is that you can't simply remove Amazon seller feedback alone. However, you can contact Amazon, which provides you with the opportunity to request evaluation. The system will accept or reject your request based on specific conditions, which are mentioned below:
If the feedback you received contains profanity, offensive language, or inappropriate content, there is a high chance that Amazon will accept your request.

Amazon understands the importance of privacy, so if the feedback includes your personal contact details or address as a seller, Amazon will look at your request.

Feedback that solely focuses on specific product details, packaging issues, or quantity discrepancies may be eligible for evaluation and potential removal.

If a customer has given feedback associated with an order fulfilled by Amazon (FBA), Amazon takes responsibility for these issues and may be more willing to remove the feedback.
How Do You Request Amazon Seller Feedback Removal?
It's always advisable to first analyze the feedback yourself before making a removal request. Once you meet the criteria for removal, follow these steps: 
Step 1: Use your credentials to log in to your Seller Central account.
Step 2: From the menu, navigate to the "Performance" section and select "Feedback".
Step 3: Go to the "Feedback Manager" page and find the "Recent Feedback" section.
Step 4: Sort the feedback based on the rating it received. Identify neutral and negative reviews that you believe meet the criteria for removal.
Step 5: Select the "Request removal" option by clicking the dropdown menu next to the comment.
Step 6: Then, you will see a confirmation message. If you're confident that the comment meets the removal criteria, click "Yes." Now, Amazon will review to determine whether the comment should be removed.  

Benefits of Amazon Seller Feedback
In today's highly competitive marketplace on Amazon, staying ahead requires a blend of up-to-date knowledge and consistent efforts. And, of course, tracking your seller feedback is something you can never skip. 
As the number of sellers on Amazon continues to grow exponentially, it becomes highly challenging to stand out. Getting positive seller feedback really makes a difference.
While smart sellers understand the significance of seller feedback, they give so much importance to it. We outline the advantages of maintaining positive seller feedback to help you understand why you should also prioritize it.
Helps Improve Your Amazon SEO
Based on Amazon's A9 algorithm, it's evident that good seller feedback directly impacts your product's ranking on the platform. By consistently improving and maintaining positive feedback, there are high chances you will succeed in getting on the top of SERPs. It allows you to reach a more extensive customer base and boost your sales potential.
Helps Win Buy Box
Winning the Buy Box significantly increases your likelihood of making a sale. It's the ultimate desire of every seller and vendor to get the Buy Box because it leads to more successful transactions. A Buy Box can be won in many ways, and having outstanding customer metrics is one of them. 
Amazon values providing exceptional customer purchasing experiences, so receiving positive seller feedback indicates that you offer excellent customer service. As a result, it enhances your chances of winning the Buy Box. 
Additionally, there are other metrics to consider, such as maintaining a healthy account, receiving positive reviews, and garnering reviews within a specific timeframe. All these factors contribute to improving your chances of winning the Buy Box.

Amazon Penalizes Sellers with Poor Seller Feedback
Amazon consistently assesses your performance based on seller feedback. That's the reason, receiving negative feedback can significantly jeopardize your position in the competition. Since Amazon is committed to providing customers with exceptional experiences, receiving a one or 2-star rating shows the seller is giving a poor customer experience.
Several factors contribute to your seller feedback, including the perfect order percentage, Amazon order defect rate, Amazon order defect rate, and other considerations. If you let go of these metrics, Amazon may take action against your seller privileges. That's the reason it's imperative to maintain positive seller feedback.

How to Manage Feedback Management Proactively?
After you deliver the product to customers, they have 90 days to review your product and leave Amazon seller feedback. However, if they want to remove Amazon seller feedback for any reason, they can do that within 60 days. Since customer feedback has an immediate impact on your business reputation, if you have negative reviews, they can discourage potential buyers from making a purchase. That's why developing a strategy for managing seller feedback is essential.
During this critical period, you should actively monitor all feedback you receive on your seller account and promptly address any customer issues that arise.
Here are some steps to take a proactive approach to resolving customer problems:
Review the feedback carefully.

Propose a solution to resolve the problem.

Approach the customer politely.

Await their response.

Effectively address and solve the issue.
With time, as the sales volume increases, you receive more feedback on your account. Using the data, you can refine your strategy and adopt a proactive approach toward managing seller feedback on Amazon.
It's important to note that seller feedback on Amazon is specific to each marketplace. For example, if your product is available on Amazon Canada and Amazon US, the seller feedback is unique to each marketplace. A negative or positive feedback rating on one marketplace will not affect the seller feedback ratings on other marketplaces.

How to Address Negative Seller Feedback on Amazon?
One of the most significant setbacks for sellers on Amazon is that not all negative feedback can be taken down. On the other hand, Amazon also has strict rules for customers that they must follow when leaving feedback.
If you come across a comment that is not valid, you can request Amazon to remove it. Generally, inappropriate comments from customers come in the form of sharing links or comments about other websites, suppliers, or sellers, comments in inappropriate language, and personal information about other Amazon sellers. 
To address this, you can request Amazon Seller Feedback removal. While you do so, provide a valid reason why Amazon should remove the specific comment. Typically, Amazon doesn't take much time to respond to such requests. If it takes longer than three days, you should send a follow-up email to ensure the issue is addressed.

Frequently Asked Questions (FAQs)
How important is seller feedback on Amazon?
Seller feedback on Amazon is essential for your business on Amazon, as it helps to present a true picture of your brand to potential buyers. It depicts your performance as a seller. However, if the feedback is negative, it can have unwanted consequences. But you can know what issues people are facing with your product and address those issues in the future.
How can I ask for seller feedback?
On Amazon Seller Central, you can use the "Request a Review" button. This button is located on the details page of each buyer's order. When you click the button, it automatically sends an email to the buyer, asking them to leave feedback about your performance as a seller.
What's the difference between seller feedback and seller ratings?
Seller feedback refers to reviews and comments given by buyers specifically about your performance as a seller. On the other hand, seller ratings are numerical ratings based on several performance metrics, such as customer service, shipping time, and product quality.
How do you improve your seller feedback?
You must focus on providing excellent customer service, accurate product descriptions, prompt shipping, and resolving customer issues effectively. Occasionally, request satisfied customers to leave feedback so you can have more positive feedback. Also, you must immediately address any negative feedback by contacting customers.
How do I get Amazon seller feedback?
You can get feedback from the customers either when they are happy (leaving positive feedback) or angry (leaving negative feedback). You can get positive Amazon seller feedback by:
Providing excellent customer service

Fulfilling orders efficiently.

Maintaining product quality.

Requesting feedback from customers.

Monitoring feedback regularly.

Addressing any negative feedback promptly and professionally.

Wrapping Up: Amazon Seller Feedback
Understanding Amazon Seller Feedback is essential for any seller looking to thrive in the competitive marketplace. It's an important indicator of your brand's performance, credibility, and customer satisfaction. 
Though it's critical, it's not impossible! And with the right strategy, you can build a positive reputation, attract more customers, and ultimately achieve long-term success on Amazon.
All you need is to actively manage and monitor your seller feedback, address customer concerns, and strive for excellence. Just make sure your customers are happy with your brand!
And as always, our team is always there to help you out with your Amazon related queries.
  Amazon proudly offers its selling partners an exclusive ground shipping service. Now, you can
Read More »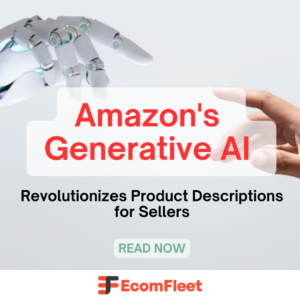 Nowadays, Artificial Intelligence is making a real difference in most fields, and Amazon is no
Read More »
Are you struggling to understand the Amazon Seller Feedback? If you are, there's no better
Read More »